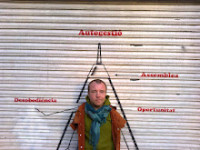 Culture for All Service has a new blogger
Nikolai Klix will contribute to the Culture for all blog during this spring and beginning of summer. He is 34 years old, born in Berlin and active in the Utopia Helsinki culture collective, among others.
Nikolai's topics range around such themes as diversity and accessibility seen not only from the viewpoint of audience, but also from the standpoint of the subjects and authors of culture. Part of his texts will be in Finnish, and part in English.
Culture for All started its blog "Kulttuuria kaikille!" in spring 2011. The previous bloggers were Finnish-Sudanese Wisam Elfadl, who is active in Kiasma's Kultu group and Outi Salo, who studied cultural management and was a trainee of Culture for All Service.