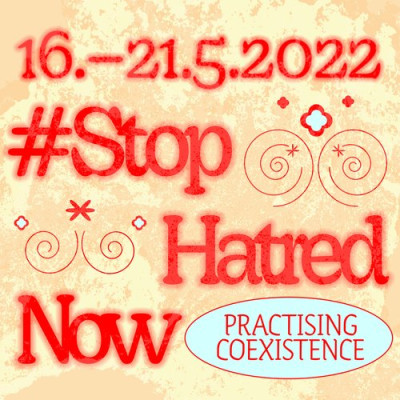 #StopHatredNow 2022 – The programme is out!
The intercultural and anti-racist platform #StopHatredNow takes place virtually on 16–21 May 2022. The event creates new discourse on diversity, inclusivity, power structures and intersectionally feminist strategies. This year's theme is Practising Coexistence.
Lue suomeksi | Läs på svenska

#StopHatredNow 2022
Press release
5 May 2022
Free for immediate release
#StopHatredNow, organised in collaboration with several art and cultural organisations, creates discourse on diversity, inclusivity, power structures, otherness, and intersectionally feminist strategies. This year's event strives to find ways of coming together and to actively practise coexistence. The programme focuses on community, collaboration, action, sustainability, and questions regarding accountability. The goal is to empower others (and one another) so that even in the midst of a crisis, people continue to have the strength to actively dream and practice coexistence.
The programme for 2022 offers free-of-charge lectures, keynotes, discussions, workshops, and artistic outcomes. The first day of the event, aimed in particular at institutions, focuses on actions and accountability. The day begins with a keynote by Michelle A. Tisdel, and continues with a panel discussion moderated by Koko Hubara from Arts Promotion Centre Finland on what cultural workers can and should demand from institutions when it comes to equality. The day is also host to discussions on inclusivity, accessible residencies, and emotional labour.
On Tuesday, the programme goes back to basics with themes such as intersectionality, DEI terminology, resistance, and change. Wednesday, on the other hand, focuses on things that are deeply entangled; Amiirah Salleh-Hoddin speaks about mental health in relation to racialised minority groups, while Renaz Ebrahimi, Teo Ala-Ruona, and Kemê Pellicer discuss criticality and how it can be an act of care.
On Thursday, the event looks to the future. In his artist talk, Kiila ry's Farbod Fakharzadeh ponders collective memory and oral history as a site for resistance, while Iiris Laisi and Ainu Kyrönseppä discuss art in the times of eco crisis and the possibilities of building a future. On Friday, the event moves to cultural centre Caisa, where the topics continue in a panel discussion on criticality and its necessity in culture production, as organised by the Finnish institutes.
The programme also includes free workshops, many of which are in English. Healing & Dealing: Whiteness Workout by Lehmus Murtomaa is aimed at white people, and one can participate via Zoom on Monday or live on Tuesday. Miriam Attias returns with her popular workshop on identity politics, polarisation, and conflicts, while Sainabou Sillah talks about how one could (and should) talk about anti-racism with children. The workshops conclude with Self-Help Session for the Striving Feminist by Sophia Wekesa and Sonya Lindfors.
#StopHatredNow is completely free of charge. It is mainly held in English, with some events in Finnish. The language of each event is marked in the schedule. Some events are print interpreted.
Arts Promotion Centre Finland, Caisa,the City of Helsinki, Culture for All Service, The Finnish Cultural Institute for the Benelux, Frame Contemporary Art Finland, Globe Art Point, Goethe-Institut Finnland, HIFF – Love & Anarchy, Interkult ry, Kiila ry, MiklagardArts, New Theatre Helsinki, Ministry of Education and Culture, Punos, Suomen Benelux-instituutti, Uniarts, UrbanApa and Zodiak – Centre for New Dance.
Check out the entire programme on the #StopHatredNow website
For more information and interview inquiries:
Essi Brunberg
Press officer
+358408699466
essi.brunberg@gmail.com