Multilingual Month / Satakielikuukausi 21.2.–21.3.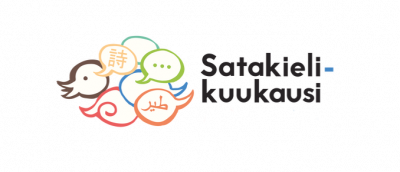 Satakielikuukausi / Multilingual Month is an annual celebration of language diversity, spreading to cultural centers, libraries, schools, and homes across Finland. Multilingual Month begins on Mother Language Day on the 21st of February, and ends on the World Poetry Day, 21st of March which is also the United Nations Day Against Racism. Multilingual Month encourages us to look at the significance of native language and multilingualism through art, participation, and coming together.

The Satakielikuukausi website and Satakielikuukausi Facebook publish information on the theme month´s events. The diverse program consists of presentations, discussions, storytelling, exhibitions, and workshops. Through art and culture, the events highlight the richness of language diversity, explore building one's identity through language, and create opportunities for mutual encounters across language boundaries.
Exhibitions, storytelling for children, and other events are organized around Finland, from the capital region to Seinäjoki and Kuopio. In addition, the program offers both live streamed and recorded online events that anyone can join from home, classroom, or kindergarten, for example.
Multilingual Month has been celebrating linguistic diversity in Finland since 2015, and in other Nordic countries since 2017. The events from previous years can still be found on the old website here. Satakielikuukausi / Multilingual Month is coordinated by the Multilingual Library, together with the Culture for All service.
Programme Picks (in English and other languages)
4.3. Lemos Juntos: maratona de histórias infantis em português.
Kulttuurikeskus Ninho tradicional Children's Literature event in Portuguese. This multicultural event for children and their multilingual families promotes an intercultural encounter around a polycentric language as Portuguese is.
9.3. sanaton – мовчазний – sáneheapme.
The performance takes a stand on the position of languages in modern society: Sami, Ukrainian and Finnish. Performers: Vuosaari Summer Theater and Ethno Contemporary Ballet. Directed by: Nèa Virtanen, ECB: Nina Bulgakova, also Tuuni Partti. Free admission.
21.3. Kielikuvia: Kohtaa kääntäjät kirjastossa Seinäjoen pääkirjastossa. (Meet translators in the library)
Translators Helinä Kangas and Triin Aimla-Laid talk about the translator's work and love for languages. Helinä Kangas translates from Italian and English to Finnish, and Triiin Aimla-Laid translates from Finnish to Estonian.
Additional information
The whole Satakielikuukausi programme and blogs are available on our website satakielikuukausi.fi.
Satakielikuukausi Facebook Page

Multilingual Library
Kellosilta 9
00520 Helsinki
monikielinen.kirjasto@hel.fi
tel: 09 310 85402 / 09 310 85 460.