Satakielikuukausi 21 Febryary - 21 March 2017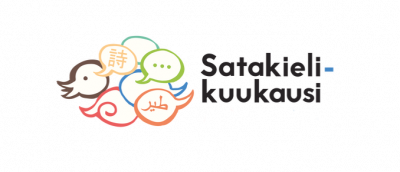 Festival Satakielikuukausi, which can be translated as the month of a hundred languages, celebrates mother tongues, multilingualism and language diversity now for the third time. The festival program consists of poetry readings, meetings with writers, visual arts, workshops, sound art and discussions in different locations including cultural centres, libraries and schools.
Satakielikuukausi starts on February 21st, International Mother Language Day, and ends on March the 21st, World Poetry Day and International Day for the Elimination of Racial Discrimination.
During the month, the importance of mother tongues and languages is examined through the arts, meetings and workshops. What do languages sound like, feel and or taste like, and what is the importance of languages for the construction of an identity or sense of security.
Most of the events during Satakielikuukausi take place in Helsinki, but there are events also in Turku and other locations. This year the Finnish National Agency for Education invites Finnish schools to organize their own events.
At the same time with Satakielikuukausi, also a Nordic initiative Multilingual Month will take place. The campaign invites organizations and individual people across Nordic countries to celebrate language diversity and multilingualism and share the contents with hashtag #multilingualmonth. More information on Multinlingual Month is coming soon.
Satakielikuukausi is coordinated by Cultural Centre Caisa. Multilin and Culture for All Service (Multilingualism and Diversity as a Resource in the Cultural Field project).
To see the festival program, please see the website of Satakielikuukausi 2017.
Additional information
Kitari Mayele, kulttuurituottaja, kulttuurikeskus Caisa, kitari.mayele@hel.fi, puh. 09 310 37506 / 050 412 0481