#StopHatredNow 2021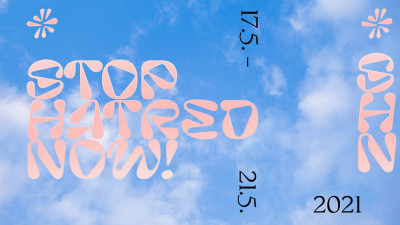 The intercultural and anti-racist platform #StopHatredNow takes place virtually on May 17-21 2021. The event creates new discourse on diversity, inclusivity, power structures and intersectionally feminist strategies. This year's theme is Reshaping Horizons of Hope.
This year's programme is characterised by the fact that things do not change by waiting. The fields of arts and culture need active agency and everyone's contribution in order to survive the ongoing crisis. The event emphasises questions of responsibility and asks how each of us, within the limits of our strengths and resources, can participate in building shared futures.
#StopHatredNow, organised in collaboration with several art and cultural organisations, creates discourse on diversity, inclusivity, power structures, otherness and intersectionally feminist strategies. Now it invites its participants into active, gentle dreaming and the creation of new horizons of hope.
The programme for 2021 offers free-of-charge lectures, keynotes, discussions, workshops and artistic outcomes.
Parts of programme organized together with Culture for All
Monday 17th May: From words to actions
The first day of the event focuses on how to turn words into actions; a discussion on the Ministry of Education and Culture report Art, Culture and Diverse Finland, moderated by Globe Art Point's Ceyda Berk-Söderblom and Sepideh Rahaa, is followed by roundtable sessions where participants can reflect on concrete ways of achieving accessible websites, intersectional climate activities, and diverse recruitment. Monday is also a day of celebration, as the International Day Against Homophobia, Transphobia and Biphobia (IDAHOT) is observed with a photo exhibition and a panel discussion with QBIPOC guests.
Accessibility
Most of the program has speech-to-text interpretation, program starting at 17.00 has interpretation to Finnish Sign Language. More information on accessibiltiy: Programme Monday 17th May From words to actions (stophatrednow.fi)
Registration
Roundtable 3. Digital accessibility: How can we make websites and web communication more accessible?

The institution day includes a round table discussion facilitated by Culture for All.
In this discussion you can get tips on how you can communicate in a more accessible way on websites and social media. What should be taken into account when adding content to a website, what about when planning a new website? This event includes a short introduction and discussion. You can think of questions for the discussion beforehand.
Language: Finnish
Facilitators: Mira Haataja and Outi Salonlahti, Culture for All
Accessibility: Speech-to-text interpretation
Program Monday 17th May From words to actions

Wednesday 19th May: Panel discussion: Practices of Inclusion and Accessibility in Dance
Anna Mülter, Claire Cunningham, Mikael Aaltonen & Paula Tuovinen + moderated by Maija Karhunen
Time: 13.45–15.15
Zoom-link to the panel discussion

Webinar ID: 892 2221 0694
Language: English
Accessibility: Interpretation to Finnish Sign Language, speech-to-text interpreting
This panel discussion invites the participants to consider the topic of inclusion and access as a creative choice in developing resources and tools beneficial to the cultural and art field. What practical methods enable and engender art and cultural spaces at fundamental levels which encourage participation from all members of society? What needs to evolve in thinking to view this perspective with fresh eyes? What needs to be developed to grow resources? Who needs to be involved in the conversations? Whose responsibility is it to provide these possibilities?
The panel discussion is a kick-off event for the Community Dance Festival, which will take place in June. The panel discussion is organised by Yhteisö tanssii ry - Community Dance Association, Zodiak - Center for New Dance, Culture for All Service and Goethe-Institut Finnland. DanceAbility Finland ry has contributed to the planning as well.
Discussants include Anna Mülter, Claire Cunningham, Mikael Aaltonen and Paula Tuovinen with dancer and performer Maija Karhunen as moderator.
Other programme
Tuesday's programme focus on intersectional horizons. Artist Flis Holland discusses diversity and their own practice, while Skolt Sámi theatre director Pauliina Feodoroff opens the discussion on how art can contribute to the climate crisis politics, led by scientists and indigenous knowledge. The day's event ends with a discussion organised in collaboration with New Theatre Helsinki, where Michelle Orenius, Geoffrey Erista and Silje Sande ponder the kinds of processes of change that are needed in the Nordic performance arts field in order for theatre to be more diverse and inclusive.
Practices of coexistence pattern Wednesday's programme, opened by an artistic poem by Kiila's members, after which the audience can follow a discussion on the practices of inclusion and accessibility in dance, moderated by dancer and performer Maija Karhunen. Participants can also immerse themselves in topics concerning identity politics, polarisation and conflict by way of Miriam Attias' workshop.
On Thursday, the event focuses on youth, activism, and communities, which are discussed in a panel with Marika Peura, Ajak Majok, and Jenny Kasongo. People can also take part in a participatory dreaming session, facilitated by Ki Nurmenniemi and Anna-Kaisa Koski, where they imagine what meaningful art structures would be like in times of social and ecological urgencies.
#StopHatredNow's last day is full of gentle drifting toward reflection on new horizons of hope as the event's organisers come together to discuss and dream about the week's various offerings. The week's last workshop leads its participants to listening, supporting, sharing and dreaming with some help from Monica Gathuo and Sonya Lindfors. #StopHatredNow wraps up with an artist discussion with director Suvi West and impact producer Emmi Nuorgam, and a virtual screening of West's documentary film Eatnameamet – Min jaskes dáistaleapmi (Eatnameamet – Our Silent Struggle, Finland, 2021).
Free of charge
#StopHatredNow is completely free of charge.
Languages
#StopHatredNow is mainly held in English, with some events in Finnish. The language of each event is marked in the schedule.
Organisers
The event is produced in collaboration with Caisa, the City of Helsinki, Culture for All, Globe Art Point, Goethe-Institut Finnland, Interkult ry, Punos ry, Uniarts Helsinki, UrbanApa, and Zodiak – Center for New Dance.
Stay tuned for more information on the programme:
www.facebook.com/stophatrednow

For more information and interview inquiries:
Essi Brunberg
Press officer
+358408699466 / essi.brunberg@gmail.com
What is #StopHatredNow?
#StopHatredNow is a platform that works for a diverse and tolerant Finland. The event is organised by several art institutes and intercultural and anti-racist organisations. The platform focuses on communality, empowerment, collaboration and the sharing of knowledge and resources. The platform was created to be long-term, and it can host events of various forms. The first #StopHatredNow took place in 2016.