New report published about Arabic-Nordic literary field
Ahmed Al-Nawas: A View of the Conditions of Arabic Literature in the Nordic Region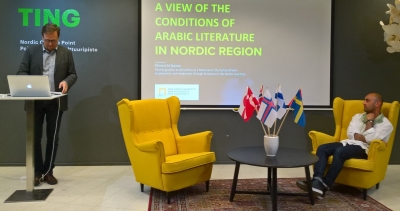 Photo: Olli Löytty comments Ahmed Al-Nawas's report on the Arabic-Nordic Literary Field in the presentation event of the report at Nordic Culture Point 31.5.2017
Ahmed Al-Nawas's new report on the Arabic-Nordic literary scene gives an overview on the conditions of this parallel and often unrecognized literary field. The report is one of the outcomes of the project Multilingualism and Diversity as a Resource in the Cultural Field. Questions that will be treated include the role of Arabic language in Nordic literature including translations, possibilities of publication, Arabic language authors' inclusion in the literary field and the distribution of literary works.
Due to decades of political and economic displacements, many repressed Arabic activists, authors, artists and intellectuals have found refuge in Nordic countries. Arabic literature produced in the Nordic region has gained international interest among contemporary literature scholars, literary festivals, prizes, journals and media. Additionally, the Arabic literature scene in the Nordic region has played a significant role in mediating literature between the Arabic and Nordic worlds, through translations and by organizing exchange programs.
The report was presented by Ahmed Al-Nawas and commented by Arabic-Nordic authors and literature experts at Litteraturcentrum Uppsala, 21.4.2017 and at Nordic Culture Point, Helsinki 31.5.2017 where it was commented by literary scholar Olli Löytty who is focused e.g. on migration literature and multilingualism in Finnish literature.

Link to the report: A View of the Conditions of Arabic Literature in the Nordic Region
Link to Olli Löytty's comment on the report: Stop the press! New literary category discovered in the Nordic countries
More information:
about the report: Ahmed Al-Nawas (on holidays)
about the project: Outi Korhonen outi.korhonen@cultureforall.fi, +358405946596