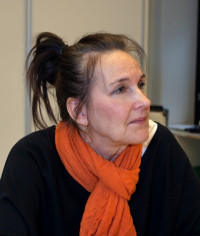 Hilkka Korhonen got Vimma prize
The Threshold Association (Kynnys ry) rewarded Hilkka Korhonen with Vimma-prize. Vimma-prize is given every year to a person, who has been promoting politic disability art in Finland.
Korhonen is a visual artist and she has been very active with politic disability art. She has also been a teacher of visual arts for a long time.
The Threshold Association is a disability organization that was founded by disabled people and its main mission is based on three elements, human rights, independent living and culture, all to empower disabled people in Finland. The Finnish word "vimma" means enthousiasm, fury or frenzy.