What motivates?
Sari, Aura and Outi were in France meeting European partners.
Culture for All participates a learning partnership "Culture - Inclusion - Participation" (2013-2014). The project is financed by the Grundtvig programme of adult education, which is part of the Lifelong Learning Programme of the European Union. The project promotes the possibilities of people in difficult life situations to participate in cultural life. It also focuses on culture as a factor of empowerment and citizenship.
The second meeting of the project was in Southern France on June 26th-29th 2013. Our host was FNARS (Fédération Nationale des Associations d´Accueil et de Réinseration Sociale), which is the national union of organizations against social exclusion. During our journey we learned about several art projects and activities of social organizations connected to FNARS.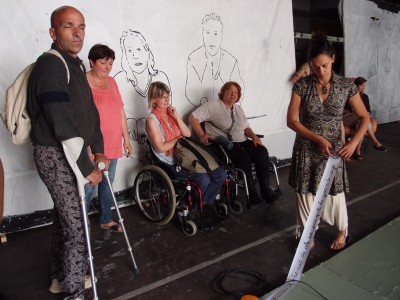 Our farewell party was held in Casa.

We were especially inspired by the encounters with many people who were involved in the cultural activities. Together we discussed about the question of motivation which is also one of the four chosen subjects to be examined in the project. Based on the conversations we drew up some thoughts about the factors which can motivate participation in cultural activities.
Social interaction seems to be one of the most important things which increase the motivation to participate. Motivation to participate can increase when there is a feeling of belonging to a group of people who respect one another. Autonomy and seeking consensus are also important factors. The group should share and get responsibility for organizing the activities - the activities should be organized by the group for the group. The possible social worker should be a member, not a leader of the group.
Having enough time for planning and carrying out the cultural activities is also essential. There are some things you can´t rush, and you just have to give them time. Many examples we saw were long-term projects. The participants should be able to take part in them on their own terms.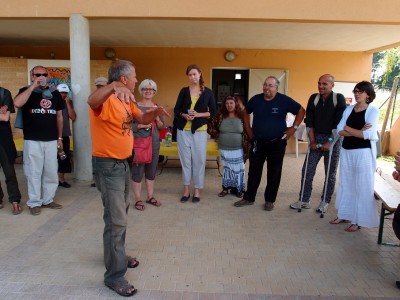 The partners of the project and many people we had met during our journey gathered together to Espelido gardens.

Cultural projects can increase confidence and build self-esteem. Respect coming from other people for the artistic work can be very meaningful. There should be professional artists involved in the cultural activities, and the activities shouldn´t be seen as art therapy, but as creating art and as "consuming culture". Working in groups which include people with many different backgrounds (participants, social workers, inhabitants of the city, artists etc.) can generate equality by mixing and changing the roles.
As the Helsinki meeting is getting closer, we will continue processing our experiences and will get back to these themes later on. Meanwhile, let´s stay motivated!
Text by Aura Linnapuomi and Outi Salo. Sari Salovaara, Iisa Karstén and Hannu Myllynen were brainstorming the themes with us. Photos by Outi Salo.