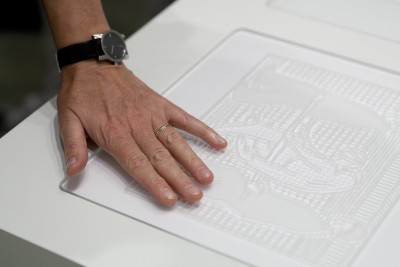 A multisensory exhibition for the blind and partially sighted is now open at Ateneum
FOKUS exhibition: The Angel 10.09.2014 - 07.12.2014. Free entrance until October 16th!
The FOKUS exhibition introduces a multisensory method, developed by Croatian art historian Nataša Jovičić, in which a painting is explored through touch and sound. The programme is intended primarily for the blind and partially sighted, but is also of interest to the seeing.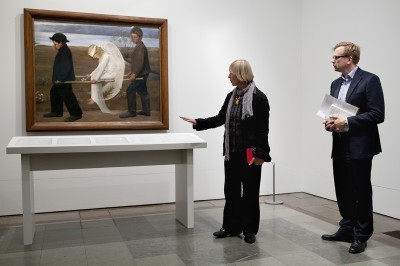 Curator Nataša Jovičić, Acting Director of Museum Timo Huusko. Photo: Finnish National Gallery / Hannu Pakarinen
Hugo Simberg´s painting The Wounded Angel (1903) is one of the most beloved works in Finnish art. It speaks to viewers in many ways - there are as many interpretations of the picture as there are viewers. When Simberg fi rst exhibited the work in the annual show of the Finnish Art Society, its title was just a dash - the artist´s way of saying there is no single, correct interpretation. All viewers create the meaning of the piece for themselves, experiencing it in a personal way. Nataša Jovičić´s method also produces new interpretations.
Exhibition's curator is Nataša Jovičić.
More information:
Ateneum Art Museum
Photo: Finnish National Gallery / Hannu Pakarinen