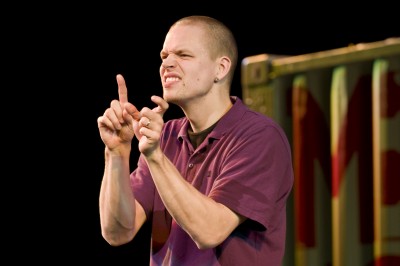 Signmark & Seinäjoki City Theatre: a lecture and a performance
Hip hop artist Signmark holds a lecture in Seinäjoki City Theatre with the title "From impossible to possible - dreams are made to be achieved" .
The lecture is at the Alvar Hall of Seinäjoki City Theatre on Tuesday Feb 18th at 12-14, tickets 10 euros. Marko Vuoriheimo alias Signmark is the first deaf artist in the world, who has recorded for international record label.
Signmark will also join to the guest solo artists of the Seinäjoki City Theatre and will perform a song by Paula Koivuniemi at the performance "100 kesää 1000 yötä" on Wednesday Feb 19th. The performance will be interpreted to Finnish Sign Language.
More information in our Finnish News.