Webinar I det stora samarbetet on 28th Jan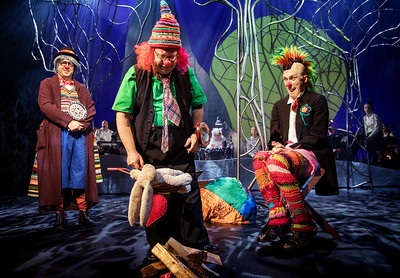 The webinar is about the cooperation behind the performance I det stora landskapet.

A year ago I det stora landskapet - en sagolik familjekrönika play was performed at the Svenska Teatern in Helsinki. The music theatre performance was realised with collaboration of four organisations and ensembles: DuvTeatern, Svenska Teatern, Wegelius chamber strings and Resonaarigroup. DuvTeatern will tell about their thoughts and experiences on the cooperation in the webinar.
Time: 28.1.2021 at 13-15.30.
The webinar will be streamed to YouTube. You will need a computer, tablet or smart phone to follow the live stream. Participate in the webinar via YouTube.
The main language of the webinar is Swedish, but also Finnish will be used. The webinar will include live streamed sessions and also material which has been recorded beforehand. The live streamed parts will have interpretation to Finland-Swedish Sign Language. The recorded material is captioned in Swedish.
More information about the seminar in Swedish: I det stora samarbetet on DuvTeatern's website
Inquiries:
Helena Laxén
helena.laxen@duvteatern.fi