#StopHatredNow 2020 – the programme has been released!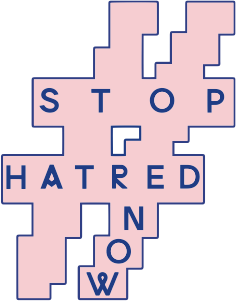 How to get cultural and art institutions to embrace more equal and inclusive strategies and standards? How to create space for conversations about sustainability, inclusivity and on how to act within institutions together? What even is feminist leadership in this day and age? How to mediate conflict situations while maintaining safer space policies? How could institutions work together with individuals so that new standards would benefit marginalised groups? How can we effect structural change?
The world is changing quickly, and in moments of crisis it is more important than ever to work together and remember those whose situations and positions are vulnerable. It is now time to renegotiate things and to create more sustainable strategies so that instead of mere words, inclusivity and non-discrimination become true ways of fostering community and empowerment.
The programme for 2020 offers free lectures, keynote speeches, discussions, workshops and artistic outcomes. The event is opened by Monday's institution day, Redefining Standards, whose keynote speeches, lectures and workshops focus on how to effect change and how new standards can be brought to the fore within institutions. Arts Council England's Abid Hussein, Mustarinda's Alma Heikkilä and Arts Promotion Centre Finland's Marika Räty, Julian Owusu and Esa Vienamo, among others, create space with discussions on sustainability, inclusivity and how to act together from within institutions. The day ends with a discussion on feminist leadership.
Tuesday's programme will ponder why new standards are needed and for whom they are meant. Delfin Idänpään-Heikkilä and Jessie Bullivant will discuss intersectional institutions and artistic practices, respectively, while Abdullah Qureshi tackles the subject of queerness and Islam in a migratory context. A workshop on practices that guarantee better working conditions will be held by Feminist Culture House.
Wednesday will be a day of collective acts and feminist pedagogies. Artist Jemina Lindholm and art educator Aapo Raudaskoski discuss intersectionality, accessibility and feminist work. Thursday's programme, on the other hand, will focus on conflicts. How does depolarisation work, and what does it mean to work with conflicts from afar? Such questions are answered by Miriam Attias' workshop and a series of videos by the organisation Kiila.
The last day of the event begins with Goethe-Institut Finnland's seminar on diversity and representation in children's literature, while Leonardo Custódio from ARMA Alliance holds a keynote speech on the importance of media activism in the time of the coronavirus and right-wing populism.
This year's virtual version of #StopHatredNow will make use of both live streaming and pre-recorded lectures. The audience need not spend an entire day before the screen, however, because a large portion of the programme will remain on #StopHatredNow's website for later viewings, and as such, anyone can return to this year's lectures, discussions and panels even after the event.
The event is completely free of charge! It will be held mostly in English, though other languages will also make an appearance. The language used is marked next to each session.
The 2020 edition will be held on May 11-15, and it is organised by UrbanApa, Culture for All, Cultural Centre Caisa, Goethe-Institut Finnland, Uniarts Helsinki's Theatre Academy and Academy of Fine Arts, Interkult ry, The City of Helsinki, Kiila ry, Globe Art Point, and Zodiak – Center for New Dance, and in collaboration with Arma Alliance, Art for Equ(al)ity, Feminist Culture House and Fem-R.
Check out the programme in its entirety here:
#Stophatrednow on urbanapa.fi
#Stophatrednow Facebook event


Contact
Artistic director: Sonya Lindfors, sonya@urbanapa.fi, +358 40 516 4420
Producer: Lisa Kalkowski, producer@urbanapa.fi, +358 44 238 7933
About
#StopHatredNow is a platform that works for a diverse and broad-minded Finland, created by several art institutions and intercultural and anti-racist organisations. At its core lies communality, empowerment, cooperation, and the sharing of knowledge and resources. The long-term platform can be used to realise various activities. #StopHatredNow was first held in 2016.