Welcome to contribute to Multilingual Month 2017!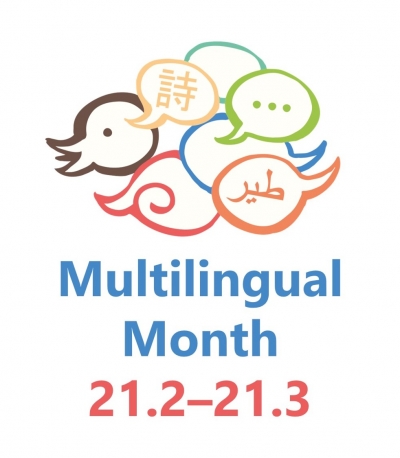 Does your organization work with or for multilingualism or do you organize activities in several languages? Could language diversity be better included in your activities? We collect content for the programme of Satakielikuukausi / Multilingual Month 2017.
Multilingual Month starts on February 21st, International Mother Tongue Day, and ends on March the 21st, World Poetry Day and International Day for the Elimination of Racial Discrimination. It is an annual celebration of mother tongues, multilingualism and language diversity. What do languages sound like, feel and or taste like, and what is the importance of languages for the construction of an identity or sense of trust/security?
The program of Multilingual Month consists of poetry readings, meetings with writers, lectures and discussions, visual arts, workshops, art installations, multimedia events and sound art. Most of the events during the Month of a Hundred Languages Festival have been based in Helsinki, but also events around Finland are welcome to join the program.
You can also celebrate Multilingual Month independently in your organization or educational institution, thinking of the aspects of language diversity that are relevant in your activities.
Satakielikuukausi (Multilingual Month) is coordinated by Helsinki Cultural Centre (specially The International Cultural Centre Caisa) with Culture for All Service. The main partners are the venues of Helsinki Cultural Centre and Helsinki Libraries.
The contents of Multilingual Month are independently produced and financed by each collaborating organization. They can form part of the organization's normal activities, if multilingualism is a relevant aspect of them. Through a collaborative communication we can create bridges between different actors in the multidisciplinary field. In 2017 Multilingual Month will begin to be expanded also to other Nordic Countries.
We are interested in programmes with
contents, where multilingualism or don-dominant languages are relevantly present either in the contents or the language of the activity
online presence of the included events also in the organization's own website
The information we collect from the programmes includes: name and basic content of the event, time and venue, organizer of the event, languages used or treated in the event, a promotion picture of the event, and a link to the organization's own website where the eventual updates of the event info will be done.
Please send your proposal through the following link at the latest 10.1.2017 (From outside Finland at the latest 24.1.2017) through this link.
You can send your further questions to: caisa.tuotanto@hel.fi or outi.korhonen@cultureforall.fi.

Here you can find the archives of the past events:

Satakielikuukausi archive 2015
Satakielikuukausi archive 2016
Thanks for contributing to a diverse and multilingual Nordic Region!