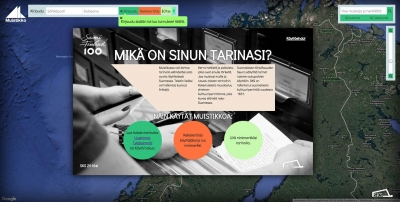 Muistikko memory bank – Finnish Literature Society's jubilee collection for Finland100 centenary 1 December 2016 – 6 December 2017
In Muistikko memory bank, citizens can tell about their life in soon to be 100 year old Finland. In addition to text, you can also add pictures and links. The memories can be read by other users immediately. Muistikko will also attach the memories to certain places on the world map. Finnish Literature Society will store these stories to the next generations.
Finnish Literature Society wishes to receive memories from people living in Finland, from those who have moved here and those who have moved from here, regardless of their language or the country they are born. In Muistikko, the content is more important than the spelling. The memory bank can be used in Arabic, English, Northern Sami, Swedish and Russian.

There are about twenty nationwide organizations as partners in Muistikko at the moment. One of these partners is Finland100 – In rainbow's colors -project. People can share their LHBTIQ related memories in Muistikko and use keywords related to the subject. Also the keyword "sateenkaarimuisto" ("Rainbow memory" in Finnish) can be used.
The Finnish Literature Society has been collecting and storing the cultural heritage of Finland since 1831.
More information:
The Finnish Literature Society archive, keruu@finlit.fi, 040 534 7580
The Finnish Literature Society communications, tiedotus@finlit.fi, 040 580 4964, 040 7301743