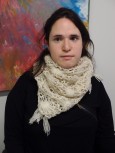 A new trainee has started in Culture for all
I´m Kira Enberg. I started as trainee of Culture for all Service, my training takes until 16th May.

I study in business school speliazing in customer service and sales.

I'm interested in culture field and accessibility of culture services. I 'll write to our blog about Culture for All´s events and everyday life.
My contact details:

Email: kira.enberg(at)cultureforall.fi
Tel. + 358 (0)40 460 5928