Outi Salonlahti: Näyttely olemassaolon oikeudesta
Tukholman Fotografiska-museossa oli esillä näyttely Ikoner – En utställning om att få finnas (21.3.-5.6.2016). Näyttely teki vaikutuksen toteutuksellaan, sisällöllään ja sanomallaan.
Näyttely koostui kauniista muotokuvista. 21 henkilöä, joilla on Downin syndrooma, poseerasivat valokuvissa eri hahmoiksi eläytyen. Mukana oli muun muassa pääministeri, barbi, morsian, poliisi, diiva, supersankari, vallankumoustaistelija, äiti ja rakastavaset. Jokainen valokuva oli suunniteltu, puvustettu ja lavastettu huolella – kaikki huokui omistautumista.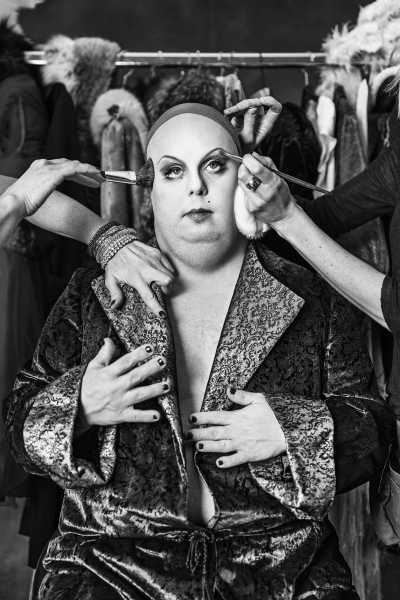 Diiva, teos Ikoner-näyttelystä. Kuva: Emma Svensson
Näyttelyn päähenkilöt ovat ihmisiä, jotka harvoin näkyvät yhteiskunnassamme. He eivät ole useinkaan päässeet esille valtamediassa – vaikka onneksi viime aikoina on menty parempaan suuntaan. Vammaisten henkilöiden historiaa on suljettu pois ja marginalisoitu. Esimerkiksi elokuvissa vammaisuus on usein esitetty stereotyyppisesti ja yksiulotteisesti. Valta määritellä on ollut muilla kuin vammaisilla henkilöillä itsellään. Ikoner-näyttelyn yksi tavoite olikin tehdä vammaisia henkilöitä näkyväksi julkisessa tilassa heidän haluamallaan tavalla.
Vastaavanlaisia valokuvaprojekteja on ollut Suomessakin. Lyhty ry:ssä Pekka Elomaa on työryhmänsä kanssa toteuttanut useita näyttelyitä ja teoksia, esimerkiksi
Hyvää päivää, Herra Holbein
. Valokuvaaja Stefan Bremer, teatteriryhmä Duv Teatern, pukusuunnittelija Paula Varis ja tanssikoulu Blue Flamenco toteuttivat yhdessä
DuvaDiva-valokuvasarja
n. Valokuvasarja kysyy, kuka saa näkyä ja ottaa tilaa itselleen – ja kuka on ihailun arvoinen.
Näissä näyttelyissä ja teoksissa kyse ei ole edes pelkästä oikeudesta tulla näkyväksi, vaan konkreettisesti oikeudesta olla olemassa. Suomessa toteutetaan valikoivaa aborttia. Sikiöseulonnoissa havaituista Down-sikiöistä abortoitiin Suomessa 54 % vuonna 2011, Tanskassa Down-raskauksista keskeytetään jopa 77 % (
Lähde: Yle uutiset 11.5.2015
). On mahdollista, että kehitysvammainen ihminen ei saa syntyä vammansa vuoksi.
Kenellä on oikeus syntyä? Kuka on tarpeeksi arvokas elämään, olemaan näkyvä, ja olemaan esillä esimerkiksi museoissamme?
Teksti: Outi Salonlahti / Kulttuuria kaikille -palvelu
Lisätietoja
Ikoner-näyttelyn teokset ja taustoittava video Fotografiskan verkkosivuilla.
Näyttely Fotografiskassa on päättynyt, mutta se kiertää vielä eri puolilla Ruotsia.
Aiheeseen liittyvää kirjallisuutta:
Sandell, Dodd & Garland-Thomson (ed.) 2010. Re-presenting Disability. Activism and Agency in the Museum. Routledge.

Rieser, Richard 2011. Mustat lasit – Vammaisuus valkokankaalla ja televisiossa. Into.