Haastateltavana Annu Kemppainen: Taiteen avulla voi muuttaa todellisuutta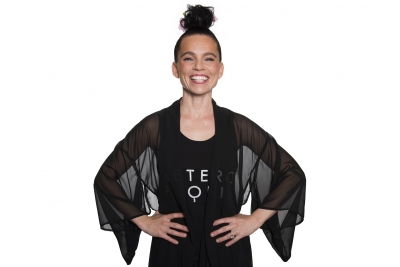 Sukupuolen moninaisuus on hyvin näkymätöntä yhteiskunnassamme, myös taidekentällä. Poikkitaiteellinen Transforces On Stage -festivaali haluaa luoda uusia todellisuuksia ja nostaa sukupuolen moninaisuuden esiin. Haastattelimme festivaalin kuraattori ja tuottaja Annu Kemppaista.
Miksi järjestätte Transforces On Stage -festivaalin?

"Transforces on aktivistiryhmä, joka toimii transnäkyvyyden, hyvinvoinnin sekä sukupuolen moninaisuuden puolesta. Oma taustani on taiteessa, olen kulttuurituottaja, ja taide on yksi luonteva toimintamuoto Transforces-ryhmälle. Transforces lähti aikoinaan liikkeelle esitystaidehankkeena, mutta koska rahoituksen saaminen suunnittelemaamme esityssarjaan oli hankalaa, päädyimme toimimaan pääasiassa aktivistisin keinoin. Näin taidehanke muuttui aktivistiryhmäksi, jolle taide on yksi vaikuttamisen keinoista, ei itsetarkoituksellinen sisältö.
Uskon, että taiteen avulla voidaan näyttää ihmisille vaihtoehtoisia olemisen muotoja ja muodostaa utopistisiakin maailmoja, jotka voivat parhaassa tapauksessa levitä tai vaikuttaa myös näyttämön ulkopuoliseen maailmaan. Haluamme antaa transihmisille ja sukupuolen moninaisuudelle näkyvyyttä."
Mitä muuta Transforces tekee?

"Transforces käyttää erilaisia kansalaisvaikuttamisen keinoja. Vuonna 2015, ensimmäisenä varsinaisena toimintavuotenamme, järjestimme esimerkiksi keskustelutilaisuuksia, juhlia ja flash mobin, teimme katutaidetta ja kuvasimme Transforces-kalenterin vuodelle 2016. Teemme ylipäätään kaikenlaista, mikä on ryhmässä oleville ihmisille tärkeää, esimerkiksi pelaamme jalkapalloa. Urheilu on todella sukupuolittunutta, sekä koulussa että harrastuksissa. On raskasta määritellä ja selittää jatkuvasti omaa olemistaan, joten monet ovat joutuneet esimerkiksi jättäytymään koululiikunnan ulkopuolelle jo hyvin nuorina."
Christian van Schijndelin The Gentleman on osa Queer masculinities -kokonaisuutta. Kuva: Jacob Tekiela.

Millä tavalla käsittelette sukupuolen moninaisuutta festivaalilla?

"Festivaalilla mukana olevat taiteilijat ovat itse sukupuoleltaan moninaisia tai käsittelevät aihetta jollakin tavalla. Lavalla on myös Transforces-ryhmään kuuluvia paikallisia ihmisiä, ei siis vain ammattilaisia, vaan muitakin sukupuoleltaan moninaisia henkilöitä kertomassa omia tarinoitaan. Heitä esiintyy esimerkiksi Transforces Live Art Clubilla 12.3.
Olen mukana Nordic and Baltic Queer Art Networkissa, jonka kautta löytyi paljon kansainvälisiä taiteilijoita festivaalille. Esimerkiksi poikkitaiteellisen Queer Masculinities -esityskokonaisuuden tekijät ovat kaikki jollain tavalla verkostossa mukana. Queer Masculities -illoissa nähdään esitystaidetta, performansseja, nykysirkusta ja burleskia neljänä iltana peräkkäin.
Lisäksi Teemu Mäki ohjaa esityksen Transformations – Otteita sukupuolen sanakirjasta, jonka ensi-ilta on 17.3. Olemme haaveilleet pitkään yhteistyöstä Mäen kanssa, sillä hän on käsitellyt hienosti sukupuolen käsitettä aiemminkin. Lavalla nähdään viisi enemmän tai vähemmän transmaskuliiniksi identifioituvaa henkilöä ja esitys pohjautuu pitkälti heidän kokemuksiinsa ja tarinoihinsa. Viittova sateenkaari -ryhmä järjestää tulkkauksen suomalaiselle viittomakielelle lauantain 19.3. esitykseen.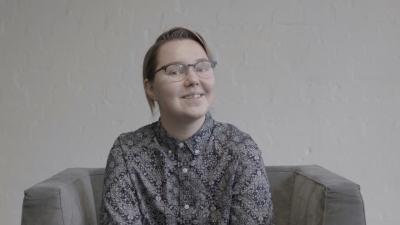 Aro. Stillkuva Teemu Mäen ohjaamaan Transformations - Otteita maskuliinisuuden sanakirjasta -esitykseen kuuluvasta haastatteluvideosta

Ohjelmistossa on myös näyttelyitä ja työpajoja. Martu Väisäsen Tunnekuva-työpajassa osallistujiksi toivotaan sukupuoleltaan moninaisia ihmisiä. Haluamme antaa osallistujille mahdollisuuden tulla nähdyksi oikein. Se on todella tärkeää, mutta harvinaista esimerkiksi transihmisille. Työpajassa saa itse määritellä, kuka on ja millaisen kuvan haluaa itsestään otattaa.
Toisen työpajan Queer Moves ohjaa Pia Lindy. Siinä osallistujat pääsevät pohtimaan, miten he ja ihmiset yleensä sukupuolittavat itseään liikkeillään. Työpajassa annetaan keinoja löytää omalle keholle hyvältä tuntuva liikkumisen ja olemisen tapa. Kuulin tässä taannoin, että kontakti-improvisaatiojameihin oli tullut sukupuoleltaan toisten määrittelemättömissä oleva henkilö, eikä kukaan ollut oikein osannut tanssia hänen kanssaan. Toiveemme on, että tässä työpajassa tanssin ammattilaiset ja aktiiviharrastajat, mutta myös sukupuoleltaan moninaiset henkilöt voivat tutkia turvallisessa tilassa, miten sallia sukupuolen moninaisuus liikkeessä – itselleen ja muille."
Taiteella on rajattomat mahdollisuudet

"Teatterissa ja muussakin taiteessa esimerkiksi roolihahmot ovat usein aika stereotyyppisiä. Esityksissä pyritään harvoin rikkomaan ja purkamaan normeja sukupuolesta ja sen esittämisestä. Näennäisesti saatetaan olla edistyneitä, mutta kuitenkin toisinnetaan yhteiskunnan normeja ja konventioita. Lisäksi sukupuoleen liittyä huumori on usein hyvin loukkaavaa ja laiskaa. Taiteessa on kuitenkin mahdollisuus tehdä mitä tahansa, voimme luoda utopioita ja uusia todellisuuksia!"
Transforces On Stage järjestetään Mad House Helsingissä 7.-20.3.2016. www.transforces.fi

Haastattelija: Outi Salonlahti / Kulttuuria kaikille -palvelu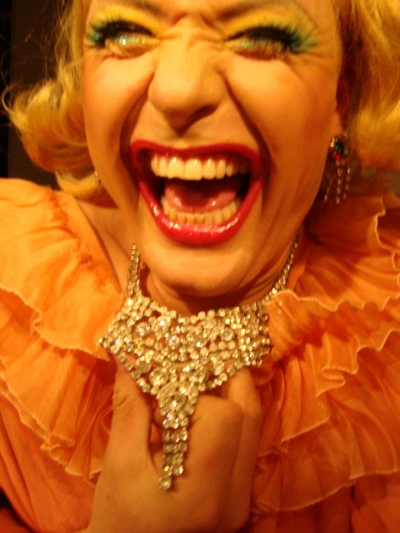 Ramona Macho esiintyy Queer masculinities -kokonaisuudessa.