Taiteilijaresidenssit inspiroivat taiteilijoita
Maanantaina 10. maaliskuuta Helsingin taidemuseon Studio-tilassa oli tiivis tunnelma kun "Equality in Artistis Residencies - Taiteilijaresidenssit ja yhdenvertaisuus" -seminaarissa keskusteltiin taiteilijaresidenssien esteettömyydestä ja vammaisten taiteilijoiden mahdollisuuksista käyttää residenssejä työskentelyssään.
Työskentely taiteilijaresidenssissä mahdollistaa taiteilijalle irrottautumisen arjesta, joten taiteelliseen työskentelyyn voi keskittyä rauhassa. Residenssissä työskennellessä voi kokeilla ja löytää uusia työskentelytapoja ja tätä kautta saada uusia ideoita ja inspiraatiota taiteen tuottamiselle. Residenssijakson aikana on myös mahdollista luoda verkostoja taiteilijoihin ja organisaatioihin, joihin ei muuten olisi kontaktissa.
Taiteilijaresidenssiin pääseminen on haastavaa taloudellisten ja ajallisten resurssien vuoksi. Usein residenssijaksot ovat pitkiä, joten ne vaativat paljon järjestelyjä. Lähtemistä voi myös vaikeuttaa perhesuhteet, vakituinen työ ja muut arkiset asiat. Vammaisen taiteilijan kohdalla residenssiin hakemista ja pääsemistä saattaa vaikeuttaa vielä avustajan tarve ja kustannukset ja paikan mahdollinen esteellisyys sekä muut työskentelyyn liittyvät asiat.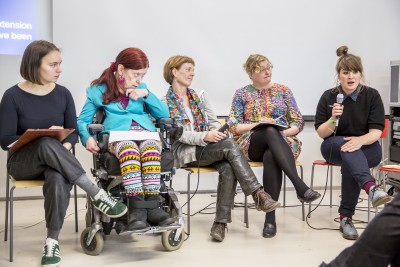 Paneelikeskustelussa: Gunilla Sjövall (toinen vas.), Pia Bartsch, Kirsi Väkiparta; Laura Slater. Ensimmäinen vasemmalta on Sjövallin avustaja.
Taiteilijoilla, jotka liikkuvat apuvälineillä tai tarvitsevat muita erityisjärjestelyitä, on samanlaisia syitä hakeutua residensseihin kuin vammattomillakin taiteilijoilla. Vammaiset taiteilijat saavat residenssityöskentelystä samat hyödyt kuin muutkin, mutta heillä korostuu mahdollisuus kontaktien luomiseen muihin taiteilijoihin sekä mahdollisuus keskittyä vain taiteen tuottamiseen.
Ihmiset haluavat ja voivat nykyään työskennellä yhä vanhempina, joten työpaikoiltakin odotetaan esteettömyyttä. Sama koskee myös taiteilijaresidenssejä, residenssien esteettömyysratkaisut palvelevat kaikkia, ennen kaikkea liikkumisesteisiä. Esteettömät, helposti saavutettavat ja käytettävät tilat helpottavat ja inspiroivat kaikkia taiteilijoita. Erilaisten ihmisten kohtaaminen on myös avartava ja motivoiva kokemus taiteilijan oman työskentelyn tueksi.
Englannissa toimiva The Art House tarjoaa residenssitoimintaa sekä vammaisille että ei-vammaisille taiteilijoille ja siellä pyritään laajentamaan visuaalisen taiteen saavutettavuutta. The Art Housen ideana on tukea ja rohkaista taiteilijoita kehittämään toimintaansa ja luottamaan omiin kykyihinsä. Taiteen avulla rakennetaan omaa persoonallisuutta, joten tuki ja kannustus ovat tärkeitä taiteellisen työskentelyn aikana. The Art House tarjoaa lähtökohdat taiteellisen tyylin kehittymiselle ja rakentumiselle.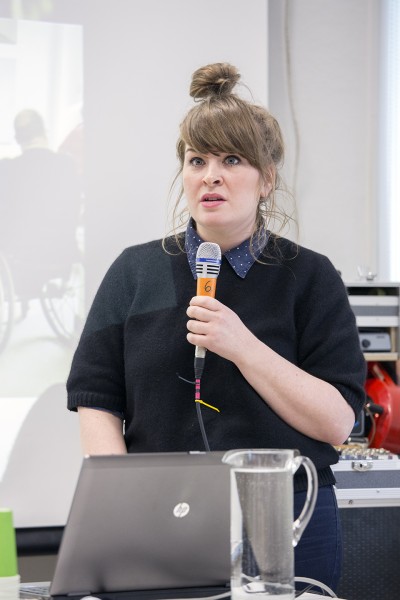 Laura Slater.
Seminaarissa Jenni-Juulia Wallinheimo totesi, että ihmiset haluavat käydä luennoilla, joissa oppia miten vaihtaa näkökulmaa ja inspiroitumaan erilaisuudesta, residenssiin mennessä nämä tapahtuvat luonnostaan! Taiteilijoilla nämä ovat tärkeitä työkaluja ja kaikilla pitää olla mahdollisuus hankkia niitä.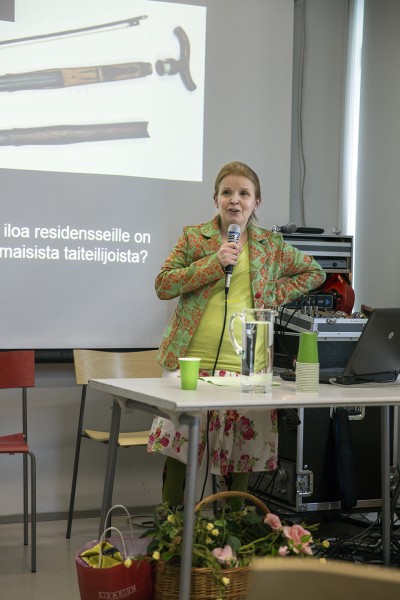 Jenni-Juulia Wallinheimo-Heimonen.
Taiteilijaresidenssien esteettömyyttä ja saavutettavuutta voidaan parantaa fyysisillä ratkaisuilla, mutta ennen kaikkea yhteistyöllä erilaisten taiteilijoiden ja organisaatioiden kanssa.
Teksti: Kira Enberg
Kuvat: Ismo Helén